At Wembley Dental Clinic, our Parksville dentists offer traditional braces and Invisalign clear aligners as orthodontic treatment options to help straighten your smile.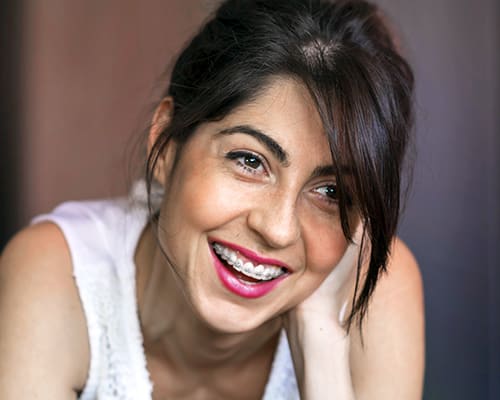 How Orthodontics Work
When teeth are misaligned, the problem isn't just aesthetic. A bad bite can also cause a variety of oral health problems. 
Orthodontic treatment, using either with traditional metal braces or clear aligners, is the key to correcting alignment issues and keeping your smile healthy in the long-term.
Traditional Braces
Traditional braces, made of either metal or ceramic, have been used for decades to efficiently straighten teeth and correct orthodontic issues. Advances in orthodontic treatment have resulted in braces that are now lower-profile, more comfortable and easier to care for.
How Braces Straighten Teeth
Braces apply continuous pressure to the teeth over a period of time, gradually shifting the teeth into their new, corrected positions.
As pressure is applied and the teeth move, the bone changes shape to accommodate the new positions of the teeth.
Invisalign Clear Aligners
With Invisalign clear aligners, your smile is gradually straightened using a series of individually customized, clear plastic aligners that are adjusted over a period of time.
Invisalign clear aligners offer a convenience factor – they are removable for when you'd prefer no one know that you are straightening your smile.
Similar in appearance to custom whitening trays, the aligners are easy to insert. You can even remove them to eat, drink, brush and floss!
New Patients Always Welcome
Proudly serving patients in the Parksville, Qualicum Beach, Nanoose, Errington, Bowser, and Coombs communities since 1993! Contact us to get started today.
Request Appointment
Hours
Monday:

08:00 am - 05:00 pm

Tuesday:

08:00 am - 05:00 pm

Wednesday:

08:00 am - 05:00 pm

Thursday:

08:00 am - 05:00 pm

Friday:

08:00 am - 03:30 pm

Saturday:

Closed

Sunday:

Closed
Quick Links