At Wembley Dental Clinic, the technology we use helps us provide patients with dental care including dental lasers, digital x-rays and intraoral scanners.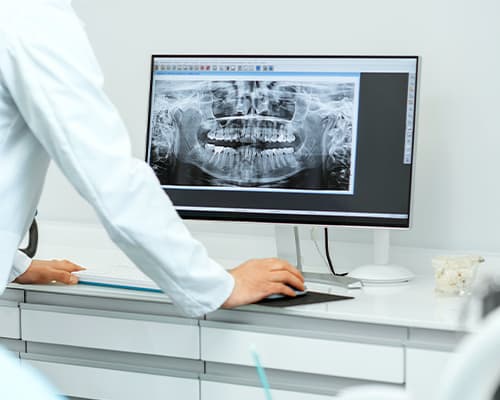 Technologies at Our Dental Clinic
At Wembley Dental Clinic, the technology we use helps to inform treatment planning and make your dental appointments more efficient. Because we can display digital x-rays and scans on the monitors in our treatment rooms, we can show you any issues in your mouth and walk you through your treatment plan step by step.
We strive to provide patients with efficient dental care, and make sure they are fully informed about their oral health. Dental technology helps us accomplish this goal.
Digital X-Rays
Digital x-ray imaging uses digital sensors rather than the traditional photographic x-ray film we used in the past. Our digital x-ray technology produces detailed, highly accurate computer images of the teeth, as well as other oral structures and conditions, allowing your dentist to identify problems that aren't visible to the naked eye.
Panoramic X-Rays
Panoramic dental x-rays are extremely useful when it comes to getting an overall picture of your oral health because they allow your dentist to generate a single image of the entire mouth. This image is a flat representation of the jaw's curved structure including the teeth, upper and lower jaws, temporomandibular (TMJ) joints.
Dental Lasers
Lasers (focused light beams) can be used in dentistry a variety of soft and hard tissue procedures. They allow our dentists to perform dental procedures with less pain and fewer medical interventions.  At Wembley Dental Clinic, our dentists use lasers to remove overgrown or decayed tissue, to reshape the gums, to harden dental restorations, or to whiten teeth.
TRIOS Intraoral Scanner
No need for traditional impressions, thanks to the TRIOS intraoral scanner our dentists can take accurate, digital 3D impressions of your teeth and bite. This technology allows us to plan your dental treatment in real-time, store data digitally, and create Invisalign clear aligners. 
Planmeca E4D Same Day Restorations
Using Planmeca E4D technology, our dentist can create a crown or bridge that is precision-fit and colour matched, to help restore your smile. Our in-house E4D system allows us to create a detailed 3D model of your mouth, design the restoration to fit properly, manufacture the restoration and insert the restoration often in just one visit.
Oral Cancer Screening Device
The VELscope® is an oral cancer screening device that helps the dentist to spot and identify abnormalities and diseases in the mouth, such as cancerous and pre-cancerous lesions. Using fluorescence visualization technology, cancer screening can be performed in your dentist's office during routine exams and under normal lighting conditions in about two minutes. 
New Patients Always Welcome
Proudly serving patients in the Parksville, Qualicum Beach, Nanoose, Errington, Bowser, and Coombs communities since 1993! Contact us to get started today.
Request Appointment
Hours
Monday:

08:00 am - 05:00 pm

Tuesday:

08:00 am - 05:00 pm

Wednesday:

08:00 am - 05:00 pm

Thursday:

08:00 am - 05:00 pm

Friday:

08:00 am - 03:30 pm

Saturday:

Closed

Sunday:

Closed
Quick Links